Land to Sea (Surfrider LA)
Extending the reach of Surfrider LA's fundraising efforts through an online art gallery with e-commerce features.

Roles

---
IA
Wireframes
Content Strategy
Web Design
E-commerce

Deliverable

---
Responsive Website

Problem

---
The art fundraiser would only be available at one location for a short time window which limited accessibility for interested buyers who could not attend in person.

Solution

---
Build an online store to allow visitors to browse and purchase available art and increase the total funds raised.

MVP Features
---
Product gallery
Product page
E-commerce
Official organization links
Sponsor/affiliate links
CTA buttons





Story

---
The
Los Angeles / Malibu chapter of the Surfrider Foundation (Surfrider Foundation LA)
held an art auction "LAND TO SEA" at Angel City Brewery in DTLA on August 16
th
, 2018 to raise funds for the One Watershed program, a beach access initiative that brings at-risk kids from some of LA's most underserved communities to the beach for surf lessons, fun in the sun, and conversations in watershed conservation.program.
Before the art opening, I met with the main stakeholders (the chapter's coordinators producing the fundraiser) and asked about their goals and constraints in hosting the fundraiser. The main constraint was that the auction was in one physical location for a limited time frame, they worried they may lose sales if interested buyers could not visit the gallery in person. This sparked the idea of a temporary website with e-commerce features to remotely sell the artwork.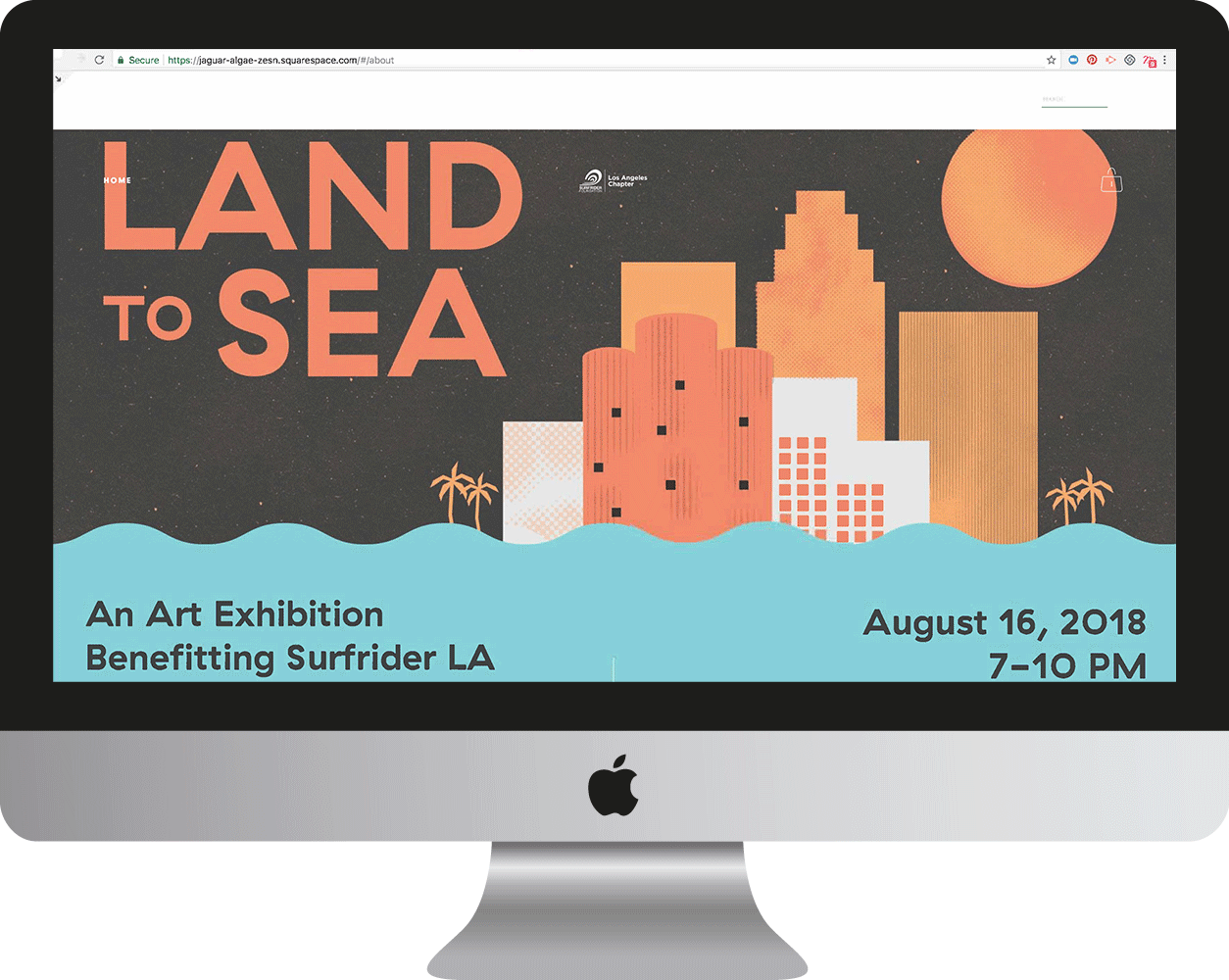 The event was 1 week out from our meeting so we prioritized features by addressing the main goal: utilize their online audience and broaden accessibility to the art auction. The coordinators provided all content and copy which allowed me to quickly design and populate the templates for the main Home, Shop and About pages.
I incorporated the visual design of the event's flyer throughout the site for brand consistency. We linked the chapter's social accounts to direct traffic to their official pages and increase engagement to the primary audience.
The e-commerce platform acted as the event's POS system to capture sales and track orders within the site's backend. This allowed volunteer staff to easily access necessary customer information when it came time to process shipments.
The website was live for a temporary windor of time as it was only needed during the duration of the auction. Below is a recording of the final website flow.
Client Testimony

---
"Jennifer's quick turnaround on our tight deadline didn't diminish the beauty or functionality of our site which was created to support a special event and fundraising campaign for the Surfrider Foundation Los Angeles chapter. She delivered an attractive, user-friendly site that helped us bring in over $12K in proceeds for our One Watershed program, more than twice the amount we were shooting for!"
-
(Graham Hamilton, Los Angeles/Malibu Chapter Coordinator, Surfrider Foundation)
---