Carmen Ellis
︎
Launching a designer's e-commerce site to share and sell her eccentric pottery designs.

Roles

---
IA
Market Research
User Research
Wireframes
Web Design

Deliverable

---
Responsive E-commerce Website

Problem

---
Without a digital or physical presence, Carmen could not communicate her product offering to interested buyers from word of mouth referrals.

Solution

---
To build an e-commerce website, with responsive design for customers to browse products and checkout wherever they may be.

MVP Features

---
E-commerce
Product gallery
Product pages
Contact form
Inventory management (backend)

Story

---
Carmen Ellis is a talented designer, emerging in Los Angeles and Portland, known for her eccentric pottery designs. The goal was to address her problem of a lack of online brand presence. In a short time period, we setup an e-commerce site offering her pieces for pre-order in time for the 2018 Holiday season.
The site's look and feel was focused on the brand's aspirational customer The needs of her online consumer was to see products via stunning imagery, access product details, and easily checkout (with all store policies available to review). The main business goal the website had to accomplish was to grow as the product collection expanded. We turned the constraint of an initially small product collection into a strength by making it the main content on the website's landing page. From the home page, visitors know exactly what the brand offers and can shop with one click.
Carmen was able to provide all product photography and copy to populate the product pages. We matched the aesthetic of the site to her designs and brand inspiration - Art deco font added contemporary sophistication, while warm colors popped against the soft gray text throughout the site.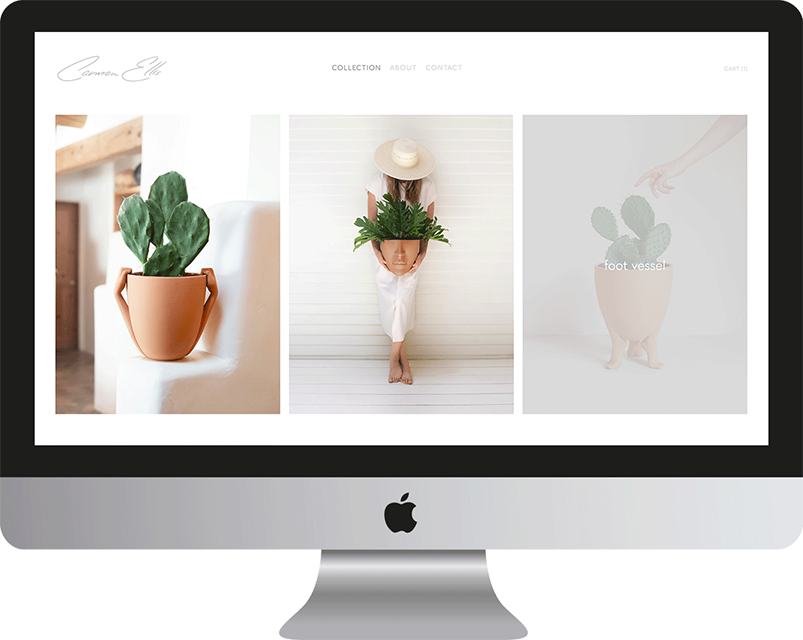 Flexibility and convenience were important needs for Carmen. I built her website in Squarespace to give her full access to both content and the commerce backend so she could swiftly update shipping policies or add new photography for her growing product collection. Squarespace's responsive design makes it possible to serve mobile users to capitalize on the growing trend of mobile shopping trends. Carmen can also access the sites analytics to help inform further digital marketing strategy.
Carmen had success during the site's soft launch by capturing sales from a customer converted from her social media audience (that was directed to the site).
---